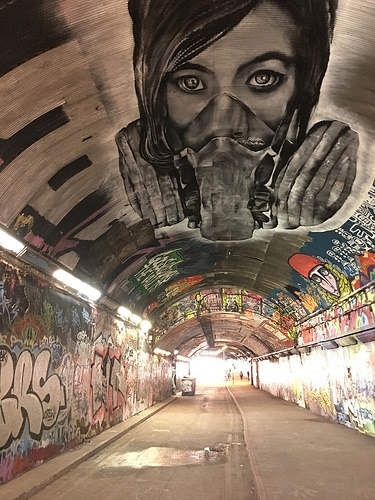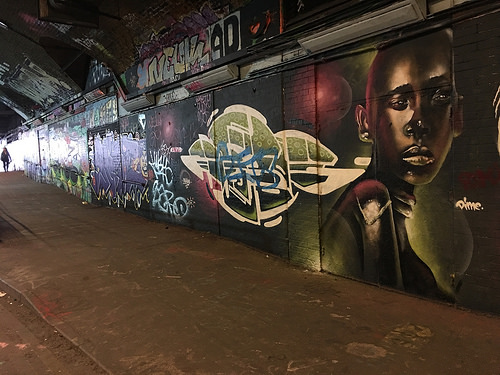 From the York Road end near Waterloo Station it looks like the tradesman's entrance to Hades. Those of a nervous disposition, or suffering from Brexitphobia, may be better off using the other end of Leake Street in Lower Marsh where an embryonic urban garden presents a more gentrified vista. Either way don't miss Graffiti Grove – or the Graffiti Tunnel as it is more prosaically known – whose regularly changing urban art ranges from the salacious to mind bending blizzards of colour that would enrich the new Tate Modern.
The amazing thing is that it is still there at all as a semi-official gallery, owned by Network Rail, where anyone with a spray can is able to dare to overpaint an existing work by someone else. It hasn't returned to the dizzy heights of 2008 when it was Banksyfied by an exhibitiion of the Bristol artist's stencilled works but it still breathes a fly-by-night creativity under railway tracks herding unknowing commuters to their artless office desks.
Legal graffiti still sounds a bit oxymoronic but it works well here and the tunnel has lost little of its freshness over the years and is still surprisingly little known. Sometimes when I amble through there are more artists than visitors. For what it's worth it is rated the 256th most popular destination in London with 82 out if the 90 reviews rating it Excellent or Very Good.