Secret London History: Waterloo – the bridge that killed off a rival
John Rennie's Waterloo Bridge – "the noblest bridge in the world"
This is the story of two bridges designed by the same architect. One of them killed the other. If this sounds like a psycho-geographic thriller let's start at the beginning. The old London Bridge – the one with buildings on top for much of its life – lasted over 600 years. It was London's only bridge during that period thanks to one of the most successful restrictive practices of all time.
It arose from an unholy alliance between the City of London which took tolls from London Bridge, Lambeth Palace which took tolls from the horse ferry at what is now Lambeth Bridge and the thousands of wherrymen whose livelihood of rowing people across the Thames was threatened.
This 600 year monopoly was finally broken with the construction of Westminster Bridge in the year 1750 which acted as a starting pistol for a succession of other bridges.
The most beautiful of these was the first Waterloo bridge completed in 1817 with Doric columns designed by a great Scottish engineer/architect John Rennie. It was regarded as the best designed bridge of its time in Europe. Canova, the great Italian sculptor who created The Three Graces, said it was "the noblest bridge in the world" and it was much painted by the likes of Monet and Constable.
But Rennie also designed the replacement for the old London Bridge though it was completed by his sons. Unfortunately nobody thought through the consequences. The old London Bridge had 20 arches with narrow channels which greatly slowed down the flow of water. Once most of them were removed the flow of seawater from the estuary increased rapidly and, as often happens in similar circumstances, it started to erode the piers holding up Waterloo Bridge. From 1884 "scour" from the accelerated river flows from London Bridge was seriously damaging the foundations.
In 1924 the bridge was considered unsafe and was closed. In 1936 Parliamentary consent for a new one was given to be designed by eminent architect Sir Giles Gilbert Scott. It was built using reinforced concrete clad in Portland stone with some of the grey Cornish granite of the old bridge also being used. Some of the remains of the old bridge can still be seen.
So, take your choice was this just a case of bad luck it Or was it London Bridge taking revenge on Waterloo Bridge for helping to erode its lucrative monopoly? Only a psycho-geographer could answer that with a straight face.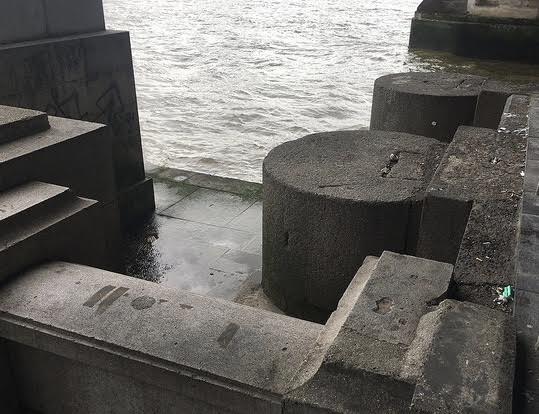 Remains of the old bridge built by John Rennie