UNTIL A FEW months ago it was only possible to visit the very ordinary office block at 101 Lower Thames Street in the City on special occasions such as London's Open Days. Now it is open at weekends with time-slots throughout the day. Not a lot of people know this yet. When I visited it yesterday I had two excellent guides all to myself. After an introductory talk they took me down a breeze-blocked stairway into what looked at first sight like a B & Q warehouse awaiting completion.
Except that this structure was actually completed around 43 AD, shortly after Boudica's ravaging of the City. It is the spectacular site of a Roman villa complete with the remains of underfloor heating and a bath house, preserved for centuries under four metres of earth. Water on an extremely hot floor created steam fired from a wood burning stove for the equivalent of a Turkish bath. The wearing of sandals was de rigueur unless you wanted to burn your feet. Among numerous other things, I was impressed with the way a piece of modern technology – a laser light pointer – can be used to explain the contours of ancient walls highlighting details that would otherwise have been missed.
The main section of the remains was discovered by the Victorians in the 1840s when they were building the Coal Exchange, a handsome neo-classical building – and a cathartic contrast to the coal mines from which the black gold was extracted – which was demolished in 1962 despite the fierce opposition of John Betjeman and his conservationist colleagues.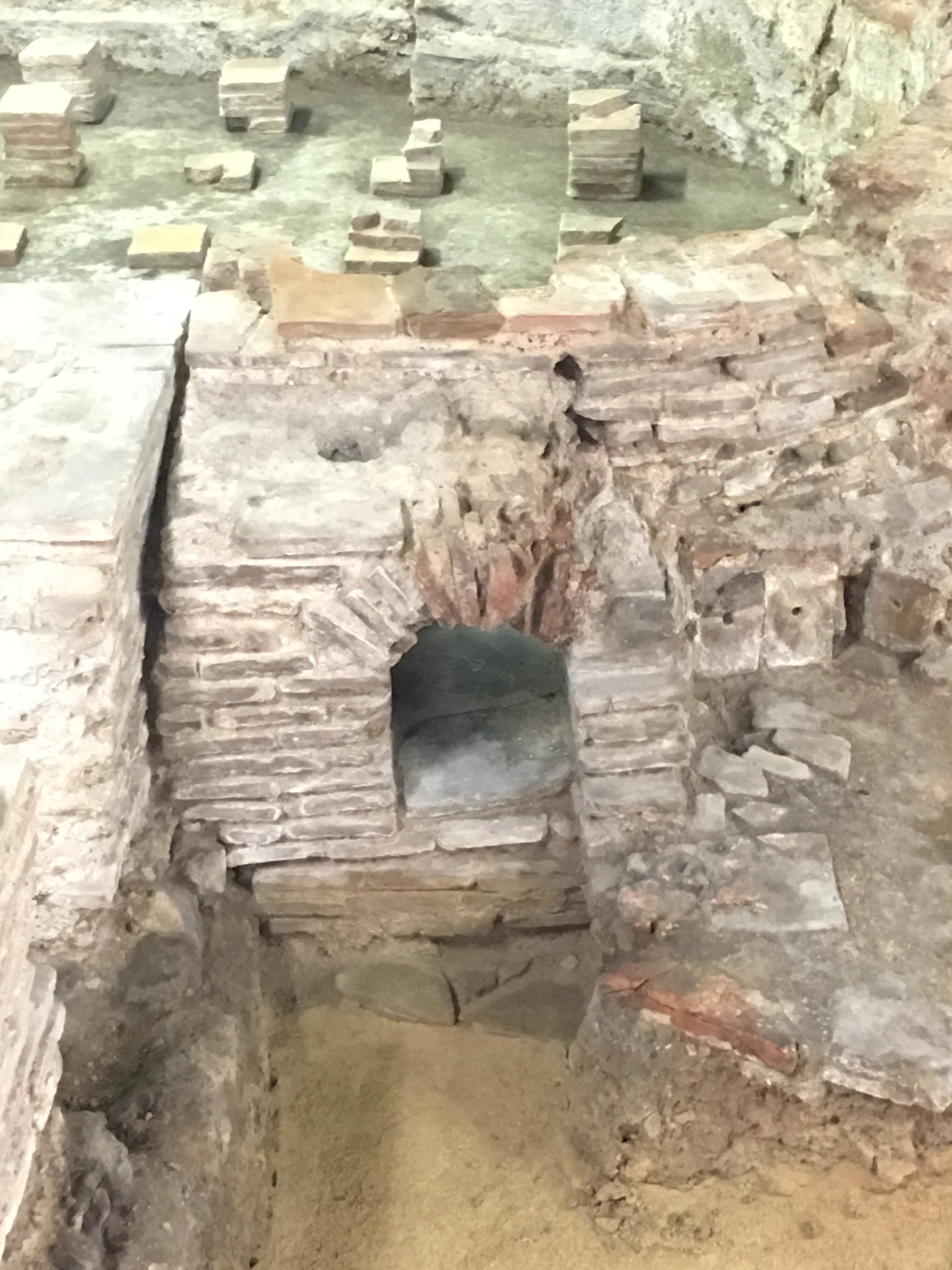 Wood burning stove with shelf for wood on the right
It is not the only, or even the biggest, Roman bath in London but is, for now, the most accessible. A much bigger one is on the site of the wonderful Clearly Gardens in Queen Victoria Street, near St Paul's Cathedral. This is an idyllic hidden garden, complete with its own vineyard. The main remains of the Roman bath now lie preserved but hidden and unaccessible under a nearby office block. But if you wander around the layers of the garden you can see memories of former times hidden among the bushes.
Other public baths have been found in Cheapside and other possible sites include Lime Street and the area around Cannon Street. It is a sobering thought that the remains of an entire city many metres beneath the ground are gradually being uneathed in London, one of the most layered cities in the world.
Tickets (£8 or £6 for concessions) can be booked via the website of the Museum of London
Follow me on @vickeegan