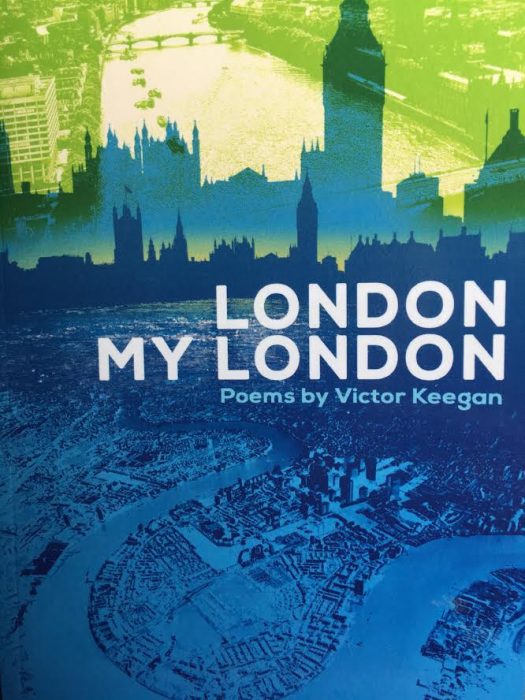 I have just published – OK self-published – my first book about London. All done in poems, over 80 of them.I was going to write about the process but @DaveHill kindly offered me a guest slot on his excellent London blog. You don't say No to Dave!
Instead here are a few random samples to give an idea of what it is all about.
Poems are a hugely flexible medium in terms of shape, length and subject matter even though I seem to have become ensnared by rhyming couplets (blame primary school). I usually try to spend 10 minutes or so first thing in the morning waiting for the muse to move. I respond best to suggested subjects and deadlines. Any offers?

80 poems about the world's most exciting city
Plaque on the wall
It's not a column, nor statue, it's true
It could be grey but it's usually blue,
It's just a plaque on an outside wall.
You could fix your own on a wall in the hall.
But sadly it won't be the same you see,
For it needs the seal of the right committee
Which thinks you are someone above the norm,
Whose name on a plaque won't generate scorn.
But there's another reason you should dread
For to get a plaque you have to be dead.
So, until that happens go forth, walk tall
Rejoice that there's no writing on the wall.
Necropolis Railway
The Necropolis Railway at Waterloo
Conveyed dead people no matter who
From a station in London's centre, no joking
To a fresh built city for the dead in Woking
No probs as long as you paid for a pass
Which could be first, second, or even third class
As in life, so in death, you must know your place
As well as being in a state of grace.
The most famous customer so history tells
Was Communist founder Frederick Engels
Whose principles should have – oh let it pass
What does it matter if he travelled first class
You don't want dead bodies to lose any face
When you're gone, class distinction leaves no trace.
On arrival at Brookwood, there's a religious test
One station for Protestants and a second for the rest
(Remember – even when you bury your dead,
There's a risk that a religious virus could spread)
So, let's give thanks to the railway of Necropolis
For helping God sort bodies before the Apocalypse.
I remember London
I was born in low rise London
Which has now all but gone
In those balmy days buildings knew their place
Before planning became an endless race
They were intended to be no more,
Than the height of the buildings right next door.
Centre Point produced the first pain
We never thought they'd do it again
Monstrously, it was built a la mode
Destroying the lines of Tottenham Court Road
Built to appease the emerging Gods fiscal
It became not a one-off but a starting pistol
For a race to the sky by developers all
Determined to profit from urban sprawl
Of all the buildings in London the most tall
For centuries was the Fishmongers Hall
Built close by London Bridge to the north
But look now at the concrete that has poured forth
Fishmongers' Hall is now a mere mound
Dwarfed by giant new buildings all around
Have we nothing to show more fair to our Creator
Than a Gherkin, a Walkie Talkie and a Cheese Grater?
Etiquette on the Tube
A young woman stood up without a sound
In a crowded carriage on the Underground
I thought she was leaving at the next station
Till she looked at me puzzled for a short duration
Then smiled and pointed at her vacant seat
I knew I should have conceded defeat
She was rightly doing what she'd been told
Though she was telling me I was too old
To be left to stand on my own two feet
I should have said Yes and embraced defeat
But too quickly I thanked her and politely said No
Not thinking that this might be such a blow
She may never do such a good turn again
I tried to explain but it was all in vain
She had sunk back into her book
Not deigning to give me another look
Her mum had told her to help the elderly
But that training had failed for all to see
So an old man could keep his punctured pride
And try to keep standing for the rest of the ride.
To buy on Kindle at £3.99(download) or £5 (paperback)