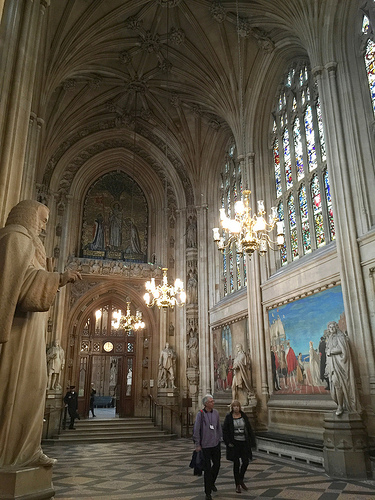 VISITORS to the House of Commons usually make a beeline for the central lobby without taking much notice of the great hall (above) they have to pass through first, a treasure trove of British history. It started life as the Royal Chapel of Saint Stephen, home to the College of Cannons, before becoming the House of Commons for over 300 years until the building was burned down in the great fire of 1834.
The original chapel had rows of pews for the cannons which were laid out facing each other. When Edward V1 granted the Commons use of the hall in 1547 there was no alternative because of the narrow design of the hall but to keep the cannons's stalls (there is a reconstruction of one on the right) facing each other – which is why government and opposition MPs face each other today in a confrontational manner unlike other similar institutions abroad. Could this be one of the reasons MPs are cannon fodder to each other and why coalition politics has taken so long to emerge? The cannons also left behind a screen which MPs utilised by asking those in favour of a motion to walk through the right hand door and those against through the left door, a tradition which lingers today as does that of bowing before what used to be an altar and crucifix as MPs enter and leave the chamber.
It was this hall that Guy Fawkes tried to blow up, where the consequences of Henry V111's sequestration of monastic property were debated, where Charles 1's death warrant was signed, where Horace Walpole, William Pitt, Charles Fox, Wilberforce and countless parliamentarians argued and near where Spencer Perceval, the only British prime minister to have been assassinated, was shot dead. Statues on either side of the hall commemorate some of the politicians who performed there.
But St Stephen's Hall sits on even older history immediately beneath it is St Mary Undercroft – not normally open to the public -which survived the worst ravages of the fire and still retains some of the medieval splendour of St Stephen's.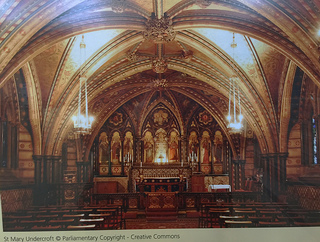 On a recent visit I was not allowed to take photos so I snapped the poster in Westminster Hall (above) as a substitute. In its time it has been a chapel for the royal household, a wine cellar, a dining room for the Speaker and, by repute, a stabling place for Oliver Cromwell's horses.
Margaret Thatcher and Tony Benn, implacable enemies in life, were united in death as both of their bodies lay – at different times – in the sumptuous chapel of the Undercroft which is not on the official tour of the Commons and thus rarely seen by the public.
For details of a major historical project exploring the history of St Stephen's Chapel see http://virtualststephens.org.uk or follow on Twitter @VSS_Project
Also @ThorneyIslandSo or @vickeegan