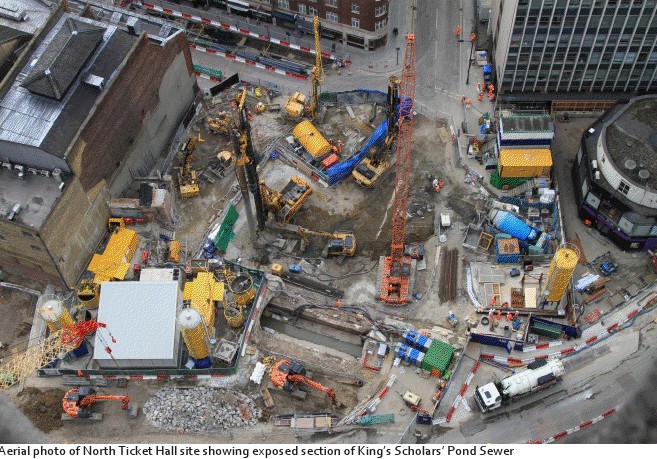 It is not often that London's hidden rivers are revealed to the open air in which they once basked – but it has happened momentarily to the Tyburn as a result of the reconstruction of Victoria Station. Historically, the Tyburn had twin sources among the hills of South Hampstead and Belsize Manor whence it wended its way southwards through Hyde Park/Green Park and underneath Buckingham Palace before bifurcating into the two rivers which hit the Thames forming Thorney Island on which Westminster Abbey was built.
Its recent history has been a bit murky as, like other rivers such as the Fleet, it has also been used as a sewer. The bit unveiled by the rebuilding of Victoria Station (photo above courtesy of London Underground) is known as King's Scholars' Pond Sewer. In the middle of the photo at the bottom you can see the water emerging from a brick archway en route from Buckingham Palace to the Victoria Palace theatre which is just off the picture at the bottom left. It carries on beneath Victoria Street underneath King's Scholars' Passage so called because the privileged scholars of Westminster School were allowed to bathe there hundreds of years ago. It continues underneath Tachbrook Street to hit the Thames a couple of hundred yards upstream of Vauxhall Bridge after the sewage has been diverted by Joseph Bazalgette's Victorian interceptors to be processed elsewhere.
The new ticket hall at Victoria Station will be underneath the Tyburn so passengers will be able to walk under this historic river when it finally opens in 2018. Engineers had to temporarily divert the flow of water and then rebuild the whole sewer. The white building to the left of the Tyburn is a ventilation shaft for the Victoria Line.
If you want to receive notification of new blogs – roughly one every two or three weeks – pleas insert your email address in the box on the right of the screen.