Christchurch Gardens today. The telephone exchange (above) replaced the church (below)
CHRISTCHURCH GARDENS, the last patch of greenery in Victoria Street, looks decidedly undernourished as if it is expecting to be gobbled any time soon by a developer for yet more luxury flats. It is only when you look among the discarded tins and other detritus by the telephone exchange at one end to see a row of half-hidden tombstones that it starts to reveal itself as an historic churchyard and burial ground. Its best known alumni is Captain Blood, an Irishman and local resident, who nearly stole the Crown Jewels but managed to blarney his way out of execution and ended up with a pension in the Court of Charles 11. He was such a notorious conman that his body was dug up a few days after his death to ensure he was not still alive.
.
.
.
.
.
.
.
.
.
.
.
.
.
.
.
.
.
(Photo courtesy of J McCarthy taken from a window in their former premises in Strutton Ground).
The churchyard is one of the last visible remains of Tothill Fields which once stretched from Tothill Street to the Thames at Vauxhall, apart from the 10 acres of playing fields at Vincent Square which was "enclosed" by Westminster School in 1810. But this space which once had a Chapel of Repose – built on the site of a much older 17th century church called New Chapel – and a burial ground which stretched under today's Victoria Street was also the scene of two remarkable legacies of slavery – black and white.
Here is buried Ignatius Sancho (1729 – 1780), an extraordinary African (below) who was reputably born on a slave ship and after working as a black servant in a rich household – a fashionable thing for the upper classes to do at the time – he was actively encouraged by the Duke of Montagu to educate himself which he did with relish.
There is a plaque in King Charles Street, Whitehall, which I have walked under for decades without noticing.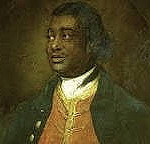 It records that there was once a grocer's shop (right) at number 19 Charles Street (as today's King Charles Street was then called and where the Foreign Office now stands) run by Ignatius Sancho who escaped from slavery in the 18th century to become a London celebrity and an admired writer, playwright and composer. He was feted by Dr Johnson, painted by Gainsborough and a correspondent of Laurence Sterne author of Tristram Shandy whom he encouraged to campaign against slavery. When a book of his letters was published on a subscription basis – today we would call it crowdfunding – the subscribers read like pages from Debrett's. Sancho was also the first black African to have voted in England.
But Christchurch Gardens is also the place where one of the most shameful incidents in England's history took place. In the 17th century it was a burial ground – stretching across today's Victoria Street – taking bodies that couldn't be accommodated at nearby St Margaret's. Samuel Pepys complained that demand was so high that "none but such as are able to pay dearly for it can be buried there". After Oliver Cromwell's victory at Worcester during the civil war an estimated 1,200 Scottish prisoners were buried here or in Tothill Fields after being marched in terrible conditions from the battlefield while others were sold as indentured labour – effectively, slaves – and sent to plantations in the West Indies and America. One example was Thomas Kemble, a lumber merchant from New England who ran sawmills in New Hampshire. He transported 274 Scottish Highlanders who had fought for Charles 1 to America as slave labour.
This patch of grass remains as one of the very few historic memories of the surrounding area that have escaped the clutches of developers. One other is nearby Blue Coat School. Christchurch Gardens may soon be confronted by several 20-storey plus blocks of flats and offices on the other side of the road where New Scotland Yard now stands, if plans go ahead. It may be only a matter of time before the ugly telephone exchange on the northern side of the gardens is redeveloped on a bigger scale. But, hopefully, Christchurch Gardens will remain to remind people of a very different world. If they notice it.