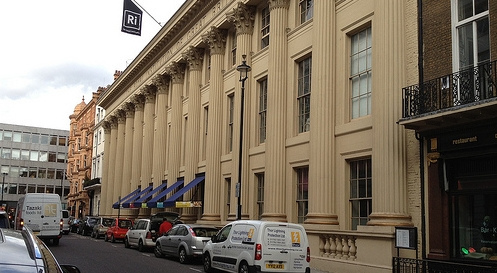 This imposing Greek styled building in the middle of Mayfair feels  more like a gentleman's club than a scientific institution yet it has a jewel of a museum in the basement and one of the sassiest public cafes in the capital. Ten chemical elements were discovered by scientists working at the RI which also boasts  15 Nobel Prizewinners.
The museum is mainly devoted to the amazing Michael Faraday whose research at the institution  paved the way for the development of electricity. It explains the basics of electricity using the actual implements Faraday used in his experiments including a reproduction of the lab in the place he worked in during the nineteenth century. Although the whole thing would be lost in a place as big as the Science Museum it works very well as a boutique museum and for anyone still puzzled by the phenomenon of electricity the explanations here will lift a lot of the fog.
The biggest surprise was the cafe/ restaurant whose dizzily coloured floor, where you can rub shoulders with working scientists, makes it feel you are eating inside a liquorice allsort.
The  Greek revivalist facade with its Corinthian columns was designed by Lewis Vulliamy (1791-1871, a pupil of Robert Smirke, architect of the British Museum.