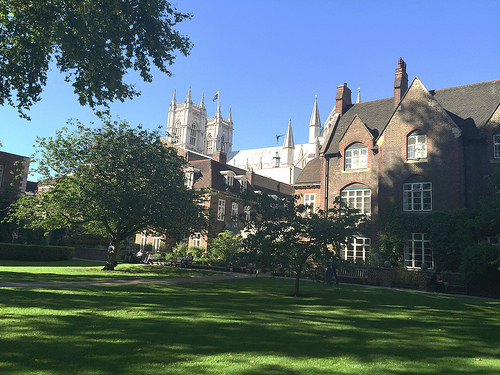 The Abbey seen from the shadowy garden
When Francis Bacon wrote: "God almighty first planted a garden" it was in 1627 some 600 years after the creation of the nearest thing to a God-created garden we are likely to see in England. And it us still with us. The garden fashioned by the monks of the abbey of Westminster – or to give it its proper name, the Infirmerers' Garden – is not only the oldest cultivated garden in England but it is the same size as it was in the 11th century apart from a parcel of land at the north-eastern end which was confiscated by Edward 111 in 1365 to build the Jewel Tower (which is still there). We know this because the medieval walls along the eastern and southern sides are still intact as is the boundary wall on the other side.
The garden still provides an oasis of calm at the heart of a busy city only yards from the cacophony of the Houses of Parliament. It remains calm partly because so few people know about it. Even when they do, they have to find how to get there (from the north-eastern end of Dean's Yard) and negotiate their way past a red-robed official who is there to stop tourists gaining a back door entrance to the main part of the Abbey and avoiding the £18 entrance fee. The garden is free – and also gives entrance to the cloisters and museum – though only on three days a week, usually Tuesday to Thursday.
Once in, it is easy to go back in time to conjure up what it once contained: an orchard, a herbarium dating to 1306 (the main reason for the garden), a dovecote, a cider mill, ponds, fruit and vegetables and even a vineyard which must have been sizeable because in 1310 one man was hired for three days to "repair the vines". There was also a channel leading to a mill at the southern edge of the garden,from which the word Millbank is derived. If you were to dig in the garden you would soon come to some of the deposits which formed Thorney Island, the eyot between the Thames and the River Tyburn on which the Abbey was built.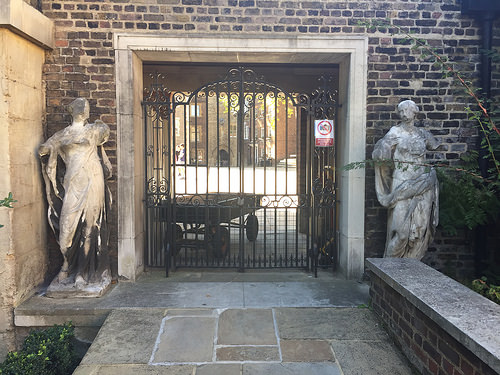 The statues guarding the gate to Westminster School.
Today's garden has a fig tree, plane trees planted in 1850 and two handsome mulberry trees (one black, one white) at each end of the garden. Either side of the stone gateway leading to Little Dean's Yard (part of Westminster School) there are two stone angels – reputably by Grinling Gibbons and Arnold Quellin which once graced the Queen's Chapel at the other end of Whitehall Palace where the Ministry of Defence building now is. There is a wealth of detail about the garden in "Westminster Abbey: The Infirmarer's Garden" by John H Harvey. But there is no substitute for going there to experience a curious meditative calm, sitting on a bench contemplating over a thousand years of religious and political history.
@vickeegan