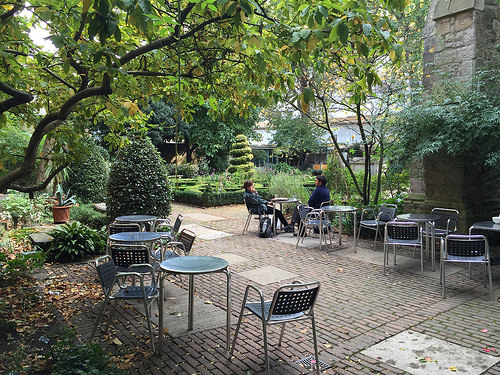 A last look at a very special garden
THE GARDEN MUSEUM and its amazing café – my favourite place in the whole of London to have a quiet lunch – is closing on Wednesday until 2017. I had my last nostalgic meal there today (it is adjacent to Lambeth Palace) and mourned with others over its wanton destruction.
OK, not destruction – reconstruction. Much of what they are doing is admirable. They are extending the world's first garden museum – at the place where John Tradescant, the father of English gardens who died in 1638 is buried – into a much classier operation within the deconsecrated church of St Mary's where the museum is housed. This includes bringing back historic artefacts from the Ashmolean Museum in Oxford which were transported there from Tradescant's ark or museum in Lambeth after his death in rather dubious circumstances. All that is good.
But the garden! This is a garden museum for heaven's sake dedicated to gardening. Progress will be achieved by greatly shrinking the size and nature of a very special place, one of the few oases of tranquility left in central London. One side of the garden is to be enclosed by a new café which will open on to a much reduced area of garden on one side and the main road on the other. This replaces a tiny galley inside the church from where a small team produced lovely vegetarian meals which helped to get it declared the sixth best museum cafe in the world by an American Gourmet magazine in 2012. It wasn't applauded because it had the grandeur of other contestants like the Michelin starred Nerua at the Guggenheim, Bilboa but because of its simple delicious home made food and idyllic garden which will now be enclosed on all four sides by intruding extensions, not the best advertisement for a museum dedicated to garden design.
I took my last melancholic look at the garden today (above) with its banana trees, mulberry, and an unusual tree of rosemary which watch over the graves of the Tradescant family and Captain Bligh of Mutiny on the Bounty fame. They are among 26,000 souls buried there including six and a bit archbishops of Canterbury (don't ask . .). I shall never see it or its like again. I pray I will be able to eat my words, but I doubt it. The graves and knot garden will remain to be gawped at rather than wandered among. Other than that a unique patch of London will be gone forever, never to return to its former glory.